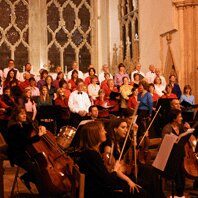 Welcome to the Dorchester Tickets online booking service for events in Dorchester Abbey.
You will need to register and login before you can book tickets. Tickets can be paid for by Credit card or debit card (through Paypal), by cheque or by using a Paypal account. Tickets will be posted to you up to a week before the event. Within a week of the event tickets will be held for collection at the Abbey door before the performance
We have tried to make booking as easy as possible.
If you need help please click here.
If you have a problem registering or booking your tickets please click to email your question. We will try to reply as quickly as possible.
Events

- click event to show dates

David Stancliffe talk
David Stancliffe, the former Bishop of Salisbury, talks on 'John Piper and the Church'.
Nicholas Mynheer talk
Frances Spalding talk
Martin Harrison talk

Dates

- click date to book

 Off sale
Thursday 26th April, 2012
7.30pm